LACBA's Appellate Courts Section is hosting a Meet the New Justices panel-interview-style MCLE on February 25, featuring the new Justices/Presiding Justices of Divisions 1, 2, 3 and 4. Details
here
.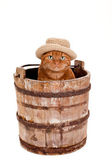 Other Appellate tidbits:
Yesterday's DJ featured 2/6's PJ Gilbert's column,
Your Sentence: Public Shame,
discussing cats and buckets.
And the rest of the world discovers "unpublished" opinions thanks to the New York Times,
here
.
The DJ's Top 20 Under 40 insert last week featured two SoCal appellate lawyers, H&L's John Querio and Jones Day's Erica Reilley.
And Southern California Super Lawyers 2015 is out, with "appellate" listings from Abbott to Wright...