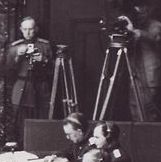 The Beverly Hills Bar Ass'n presents (On Nov. 19 @ 7:30)
Nuremberg: Its Lesson for Today
(details
here
) a film plus MCLE discussion including 2/8's Justice Rubin.
Friday's Recorder featured Myron Moskovitz's
Improve Your Chances When Seeking a Writ
, which suggests showing: (1) immediacy; (2) an opportunity to clarify the law; and (3) a serious injustice by the lower court. He concludes "don't feel bad if your petition is denied. Most of them are."
Yesterday's NLJ offered
Federal Appeals Judges Open Up About Clerk-Hiring Preferences
.
Yesterday's Law.com offered
Justices' Eleventh-Hour Queries Scramble Oral Arguments
.